Everyone knows that fires are dangerous, but does everyone know how dangerous? Does everyone know the precautions to take and the procedures to have in place to protect their properties? Here are five (5) fire safety facts to remind you of the importance of fire safety:
1. Cooking is the leading cause of reported fires. 
Most workplaces and offices contain kitchens, which is why we want to bring this to your attention.  According to NFPA, "cooking caused 49% of home fires, 20% of fire deaths, and 42% of fire injuries in 2015 to 2019.  Whether you're in your home or workplace, it's important to always be on alert when cooking!
2. Fire departments respond to an estimated average of 3,230 structure fires in schools each year. 
Unfortunately, fires that were intentionally set from 2014-2018 were the leading cause of school fires.  However, the second leading cause of school fires was cooking equipment.  As mentioned in Fact #1, kitchen appliances are the average leading cause of fires across the U.S
Statistics from NFPA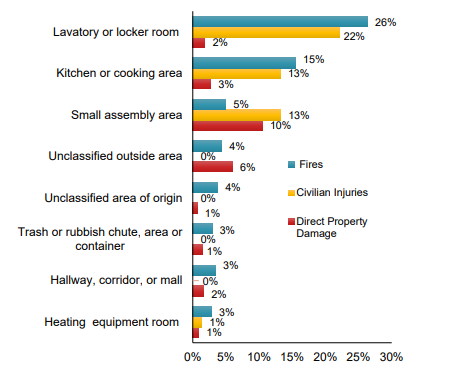 3. Most businesses do not recover from a fire. 
Only approximately 60% of businesses will reopen after a fire (or other disaster) and if they do reopen, 90% of businesses will go out of business within 2 years.  It's always better to be safe than sorry! The more equipped your building is and the more precautions you take, the less likely a fire will occur.
Statistics from FEMA & United States Small Business Administration
4. As of 2019, 3.2% less fires have occurred from 2010 in the U.S. 
Although there is a decrease in fire occurrences, the number is still alarmingly high.  Yes, accidents happen, but there are ways to prevent fires. Our fire and life safety experts can provide you with the correct information and tools to help reduce the trend.  Give us a call at (877) 945-3473 to learn more!   
Statistics from USFA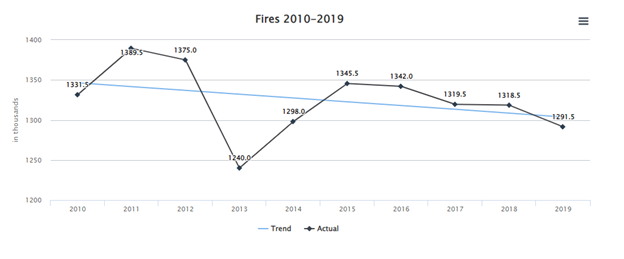 5. Approximately two-thirds of fire deaths happen when there are no working fire alarms. 
A working fire alarm system is significant for you and your property's safety.  When there is a working fire alarm system and smoke alarms, the chance of death or injury in a fire is cut in half.  Safeway Fire provides semi-annual testing of your fire alarms to ensure all aspects of your system are working properly and are code compliant.  
Statistics from NFPA
Let Safeway Fire & Protection help keep you protected! Contact us today for a free consultation to keep your buildings equipped with the best technology in the Fire Alarm industry.  Call (877) 945-3473 or email sales@safewayfire.com